Diesel Tuning Edinburgh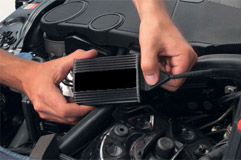 Need more power from your diesel?
Fuel prices getting too high?
Struggling with towing?
McLennan's Garage can help you with these issues with their Diesel Tuning Service to ensure your get only the very best from your diesel engine by fitting a Diesel Tuning box.
Benefits of Diesel Tuning
• achieve up to 35% more power and torque
• 20% better fuel economy
• an increase in top speed!
Diesel Tuning box Features
• 3 stage programming, ECO mode, POWER mode and COMBO mode.
• Remote control On/Off. Be in control whilst driving.
• Fully digital & reprogrammable for custom tweaking.
• German manufactured offering the highest quality available.
• 3 year warranty so you can be safe in the knowledge you will always have the best performance from your vehicle.