Scottish Motor Trade Association Trader SMTA based near Edinburgh, Scotland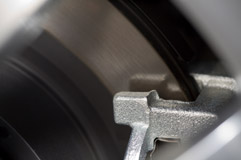 PLEASE READ ALL OF THE FOLLOWING TERMS OF USE CAREFULLY BEFORE USING THIS WEB SITE OR OUR OTHER SERVICES. THE TERMS OF USE CONTAIN INFORMATION CONCERNING WHAT YOU CAN EXPECT OF US AND WHAT WE CAN EXPECT OF YOU.
PLEASE DO NOT USE ANY OF OUR SERVCES UNTIL YOU HAVE READ, UNDERSTOOD AND AGREED TO BE BOUND BY THE TERMS OF USE.
You should also read our Privacy Policy.
We / Us / The Company  =  McLennan's Garage
(Web)  =  https://www.mclennansgarage.co.uk
and any of the pages available from these sites.
(The) Terms   =  Terms of Use
Acceptance of terms
By using our web site or other services, you agree to these Terms of Use. If you do not agree to these Terms of Use, you may not use our web site or other services. We reserve the right, at any time, to modify, alter, or update these Terms of Use, and you agree to be bound by such modifications, alterations, or updates once they are posted, without notification on our web sites.
When you make an enquiry through the "Contact Us" form with McLennan's Garage you will be given the option whether or not to accept these Terms of Service. You agree that, by continuing to use our web sites, you have accepted any updated Terms as soon as they are posted on our web site. We do not guarantee to alert you to all changes to our Terms and/or Privacy Policy.
United Kingdom Use only
Our services are intended for use by residents of the United Kingdom only (EEA) and no use may be made of any of our services by an person not resident in the United Kingdom (EEA)  If you subsequently cease to be resident in the United Kingdom (EEA) you must inform us at once and cease to use our services.
Services
McLennan's Garage provide a car MOT, servicing and repair service.
Links to relevant sites are provided.
Limitations
It is important that you understand the nature of the services which we are able to offer to you and that we are unable to guarantee any of the services or any information which may be supplied as part of our services
While every reasonable effort is made to ensure the accuracy of all web site content and efficiency of functionality, we are unable to prevent certain technical or other difficulties, which may result in the loss of certain data or disruptions to service.  Users therefore use this site and services at their own risk, without guarantee or warranty of any kind.
The information and services provided on this web site may contain inaccuracies, and/or omissions and/ or typographical errors (which we refer to in these terms of use together as "Errors"). McLennan's Garage may change or improve the sites at any time. McLennan's Garage is not responsible for any consequences of these errors or changes. If the existence of any Errors is likely to cause any loss, damage or other harm to you then we advise you to verify any information from an appropriate source before relying on it. McLennan's Garage may change or improve the site at any time. McLennan's Garage does not guarantee the transfer of all data submitted to or by us.  We cannot, therefore, accept responsibility for any loss of data submitted or messages received to or from our site.
We provide links to other websites
These sites are owned and operated by third parties. You acknowledge and agree that we are not responsible for these sites. Visitors use these sites entirely at their own risk. McLennan's Garage does not make any guarantee or warranty about the availability or content of these sites or that they are without error or free from computer viruses or any damaging, unlawful or offensive content. If you have any concerns about these sites, you should contact their site administration directly. We shall use reasonable endeavours to maintain appropriate security in connection with our services and any data transmitted by you as part of our services. Any links from this website to third party websites shall not constitute any recommendation of any nature to any person in respect of any goods and services and should not replace careful consideration of all relevant factors by the User.
Changes to Service
McLennan's Garage reserves the right to suspend, change or discontinue its services at any time without notice.  McLennan's Garage is not liable for any consequences of changes to or termination of its services.
Ownership Use of Data and Information
All information submitted by users through our site becomes the property of McLennan's Garage, by submitting information to us as part of any of our Services, you are giving us permission to use that information in any way which we see fit and to allow other people to use that information in any way.  This permission may not be revoked at any time once the information is submitted to us. Longworth Consulting will not sell, distribute or otherwise pass on any personal information unless the user has given permission or we are legally required to do so.  Please read our Privacy Policy for further details. You have the right to see or request copies of any personal information that we hold about you.  If you wish to find out what information we hold about you, send an email to webmaster@mclennansgarage.co.uk. We have the right to charge a small administration charge for  this request. All content is protected by copyright under Scottish and international law and is the property of McLennan's Garage. Copying, download and storage of any content other than for personal, non-commercial purposes are prohibited without prior written consent from and subject to any fees which we may charge
Rules of Use
By using our services you agree to act in good faith and in accordance with these terms of use and any applicable law You must provide accurate and complete information about yourself and you agree not to misrepresent your identity.  If you represent your identity or details fraudulently, you will be held liable for any losses or damage which we incur as a result of this
You agree to act legally at all times when using our site and services. You agree not to send or submit anything that is unlawful, harassing, offensive or libellous, or that infringes the rights of others or any applicable law Neither will you send any commercial material or computer viruses or anything that may damage the operation of another's computer.
Indemnification
You agree to indemnify on demand and hold McLennan's Garage, its Owners, Employees, Agents and Representatives harmless from all claims, liabilities, damages and expenses (including, but not restricted to, legal expenses on a  full indemnity basis) arising from or relating to (1) your use of this web site and/or (2) any alleged breach of this Agreement.
Governing Law
These Terms of Use and all matters relating to your use of our services shall be governed by the law of Scotland and shall be subject to the exclusive jurisdiction of the Scottish Courts, without prejudice to our right to seek recovery of any sums due by you to us before any court of competent jurisdiction.