Midlothian car garage providing Vehicle MOT Testing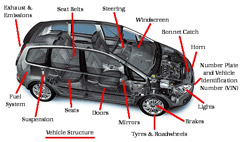 Midlothian car garage providing Vehicle MOT Testing
Mot Testing A car registered for use on a public road in the EC must pass a mechanical and emissions test. This is known in the UK as the "MOT", which is named after the old Ministry of Transport.
Vehicle MOT Testing
Cars in the UK must be tested once they are three years old, and every year thereafter. The purpose of this test is to ensure the road worthiness of a car. This test consists of the following:
· Registration plates and Vehicle Identification Number (VIN)
· Steering
· Horn
· Lights
· Bonnet Catch
· Doors
· Vehicle Structure
· Seats
· Brakes
· Windscreen
· Mirrors
· Suspension
· Seat Belts
· Exhaust System and Emissions
· Fuel System
· Tyres and Roadwheels
For a full description of the test, click on Vehicle MOT Testing.
Pricing for MOT Testing
The cost for an MOT is £53.
Please contact us to book a test.