McLennan's Garage – Scottish Motor Trade Association (SMTA) Trader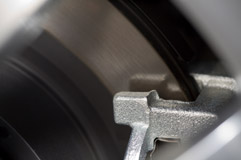 Please read the following policy carefully before SUBMITTING ANY INFORMATION TO US to ensure that you fully understand how any of your personal information will be processed by us. You should also read our terms of use.

McLennan's Garage's commitment
We are fully committed to protecting your privacy. We collect and process personal information about you in accordance with the Data Protection Act 1998 and, in particular, with the notification which we have made to the Data Protection Commissioner under that Act.
What information does McLennan's Garage collect?
Enquiry Generating:
When you fill in the "Contact Us" form, we will store the information you submit.
We will never collect sensitive information about you without your consent.
How does McLennan's Garage use my information?
McLennan's Garage collects information about you to process your enquiry.
Does McLennan's Garage share my information with anyone else?
We do NOT pass any personally identifiable information (such as your name, email address, address, description of work or enquiry) to any third parties, except when acting on your behalf to enable us to deliver our service.
There are only two possible cases where we would pass on personally identifiable information:
·        If you request us to do so
·        If we are legally required to do so
In both cases, we will only ever pass on the minimum amount of information that we consider necessary to fulfil these obligations.
Our Opt Out Policy
We will never e-mail you unless you have given us your consent. If you receive any unsolicited e-mail from Longworth Consulting please contact us immediately at: webmaster@mclennansgarage.co.uk
Ability to update your personal details
If any of your details change over time, please send an email to us at webmaster@mclennansgarage.co.uk at any time. Please ensure that these are always accurate. Should you wish to cease your relationship with us, please send an e-mail to webmaster@mclennansgarage.co.uk and we will delete your records as quickly as possible, and will never pass them on.
What are 'Cookies' and does McLennan's Garage use them?
Cookies are small files that web sites place on the hard disk of your computer. They are  an industry standard, being used by most web sites.  By using cookies, web sites can identify your computer, but not you personally. Most browsers have default settings to accept cookies, but can be set to reject them. We do NOT use cookies.
How we protect your information
Your information is stored on servers that have several layers of protection to block unauthorised access to your information.
The European Economic Area
McLennan's Garage will not transfer your personal information outside the European Economic Area (EEA).
McLennan's Garage contains links to other websites. Ensure that you read the privacy policies of any other site that you submit information to. Their privacy policy will differ from ours and we can take no responsibility for the information collected by them.
Consent
By submitting your personal information to us on these web sites, you consent to the use of that information as laid down in this privacy policy.
Changes to our privacy policy
Any changes in our privacy policy will be displayed on this page. We will take reasonable steps to ensure that users of the web site will be informed of any changes to this policy.
Questions about our privacy policy
If you have any further questions or concerns regarding this policy, please contact our Data Protection Officer, Philip Horne, by e-mail in the first instance: webmaster@mclennansgarage.co.uk or visit the Office of the Data Protection Commissioner at www.dataprotection.gov.uk
Our Cookie Policy
How we use cookies on the Mclennans Garage Website.
This site uses Google Analytics, a web analytics service provided by Google, Inc. ("Google").
Google Analytics uses "cookies", which are text files placed on your computer, to help the website analyze how users use the site. The information generated by the cookie about your use of the website (including your IP address) will be transmitted to and stored by Google on servers in the United States.
Google will use this information for the purpose of evaluating your use of the website, compiling reports on website activity for website operators and providing other services relating to website activity and internet usage.  Google may also transfer this information to third parties where required to do so by law, or where such third parties process the information on Google's behalf.
Google will not associate your IP address with any other data held by Google.
You may refuse the use of cookies by selecting the appropriate settings on your browser, however please note that if you do this you may not be able to use the full functionality of this website.
By using this website, you consent to the processing of data about you by Google in the manner and for the purposes set out above.
What is a Cookie?
A cookie is a message given to a web browser by a Web server. The message is then stored by the browser in a text file called cookie.txt. Each time the browser requests a page from the server, this message is sent back. A cookie's main objective is to identify users and personalise their visit by customising web pages for them for example by welcoming them by name next time they visit the same site. A site using cookies will usually invite you to provide personal information such as your name, e-mail address and interests.